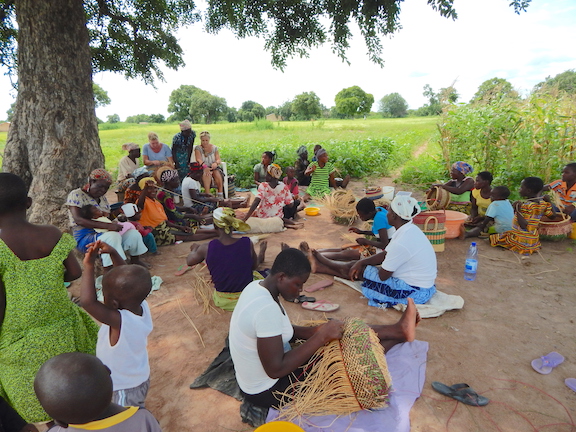 Inspiration for Basket Ministry, by Mavis Atiah
I am Mrs Mavis, 34 year old young woman whose aim is to help with those less privileged to reach their future and have love for everyone that comes (my) way. It was due to this compassion that I went to the village called Gbeo to buy sand for the Calvary West Africa Bible Institute; and to my surprise I got there and I saw child(ren) and women all over the seesaw and others carrying the sand to the long track that was packed by where I was standing. So, I ask, why are these children not in class but rather at the riverside? Then, (the) story came by one young lady called Patience and I ask her if she knows Jesus. She told me she attends (Pastor) Desmond's church, and at that time pastor was a student at the bible college (CWABI).
I then went home, organized myself with Mama Kelly Grace, a missionary (from CA) by then, to meet the women, encourage about the love Jesus has for them, and they all happen to see the kind love we have for them. So after the Word of God has been preached, the same young woman named Patience got up­ from her seat and appreciate the message of God by myself and Kelly Grace and said if we could help them learn a trade they will be grateful because they have nothing to (take) care of their children or to go to school and even to take care of themselves. There I asked them what kind of trade they wanted to learn? Then they said, anything the Lord lay in my heart. I look at them and remember what Peter and John told the man at the temple, "Silver and gold I do not have, but I will give you in Jesus name". We shall find the trade to learn.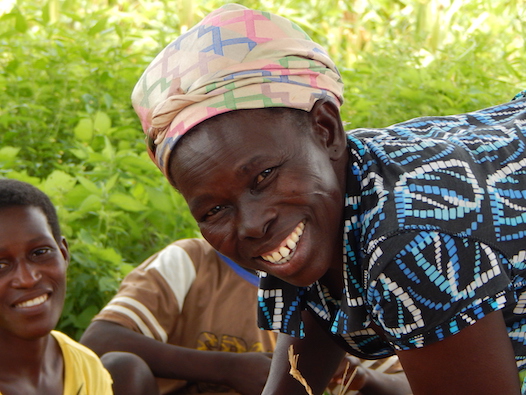 Then, basket-weaving came to mind, (so) I consult with one pastor who does the basket business but he discouraged me for first term of amount be charged me to teach the women. I said, "Lord, if it is Your will that I should help the women, then show me the way." Then, Mama Linda's name came to mind, then I quickly went to meet her in her village, spoke to her about the women I met, and she was happy that she was told and is ready to go if the materials are ready.
That is how the basket-weaving ministry started. Now, glory to the Most High God for our sisters from the States, Mama Peggy and Mama Roseann, who now made easy for our locally woven baskets to have international market and have sold our baskets for us without taking a thing from it and their prayers. Any(one) who buys our baskets has blessed our soul and may the good Lord continue to bless you as you buy our baskets ~ "salvation baskets".
"I am Rukana. My children (weren't going to school), but God been so good. I join the basket weaving and was able to make money for the children's (school fees), and now the children and I even bought a goat out of it! Am so glad God has used Madame Mavis, and through the missionaries Mama Peggy and Mama Roseann selling the baskets for us. God richly bless you all in Jesus name!"

Testimony from Gbeo mother
Later, another village whose pastor is a skilled basket-weaver was included in our mission to see the children of these rural villages remain in school. The baskets from Zuarangu have a distinct design to them and also include many styles.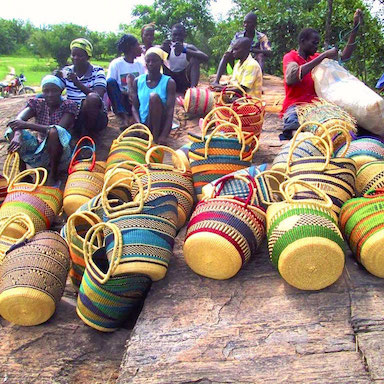 Uses:
A variety of styles creates the opportunity for many ways these baskets might be used:
grocery shopping
purse or handbag
book bag
gift basket
diaper bag
gym bag
organize children's toys
organize towels in the bathroom
organize clutter before guests arrive!
collecting vegetables and flowers from the garden
serve hot biscuits or warm cookies by placing a hot, flat stone at the bottom of a smaller basket then place a clean kitchen towel on the stone before filling with cookies!
the ideas are only limited by your imagination!
Get a basket!
These baskets provide funds in many areas of education for both villages. The children's school fees, construction of classrooms, and re-roofing existing school buildings are all projects that have been accomplished.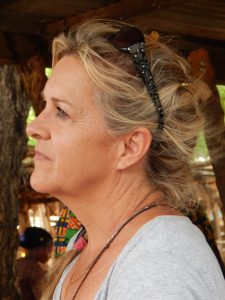 If you'd like to help,
please email Peggy Smith
at
myparker14@me.com