Surreal…
It means "marked by the intense irrational reality of a dream". That was how it felt to sit this bedside vigil at the hospital I worked at in South Dakota on March 3, 2008, the night my husband went into a coma. The doctors left for the night, one by one, each one telling me he "probably isn't going to make it through the night". Only one doctor returned, the pulmonary specialist. He came at almost midnight and wanted me to sign, giving him permission to try something experimental that he had never tried before. He thought it would make a difference. There really was no other medical hope for David.
I signed.
The overnight nurse in the ICU was a gentle bear of a man named John. Such a gentle and considerate demeanor was a bit unsettling to experience in such a big, tall guy. For a minute. The first thing he did was order in a recliner for me, telling me that "visiting hours don't apply to you. Please let me know if you need anything. Anything." Clearly David was in a coma, and John was so tender and capable in his duty to him. I could have cried. I did often. And I kept getting up to lean over David, trying to get a response from him. Surely he would respond to my voice…"Stay with me David, just stay with me!"
Nothing. Only the continued intermittent beeping of the 18 things he was hooked up to. I counted.
It must have been about 3am, maybe 4am. I was exhausted, emotionally drained, and couldn't sleep. I was afraid to. Like, I somehow believed if I just stayed awake I could "will" David to live. By this time I knew that was a foolish thought. I so needed Jesus! I kept talking to my Lord, pouring out my heart and fears to Him. "Lord, I know he goes to be in a better place with You. I can't make a better life for him than You can. But Lord, he's my best friend…can't he just stay with me a little while longer?"
"Lord, it feels like we're in a well; it's deep, the walls are 30 feet high! It's round, and mossy, and slick; there's no way out!"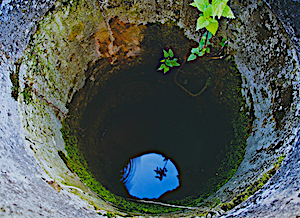 Right then, something like a vision came to me. I could see the well; I was in it! I looked way up to the top. It was dark. No way out…
Suddenly, I saw a light at the top. And what was that? A thread? A string? Yes, a thread was dangling down. Then, a voice, that somehow I knew was the voice of Jesus, said gently to me, "Reach up, and hold on to this thread…I will pull you out." I knew it was Jesus, and I heard Him as if He was there in the room with us. I simply said, "okay…" with my mustard seed of faith.
Not long after that, trying to get David to respond to me again. I leaned over and looked at his face intently, "David! Stay with me! Please, stay with me!" I saw him nod his head! Ever. So. Slightly. I called out to John, the nurse, "John, he responded to me! Come see!"
John gently assured me that people often mistake involuntary muscle movement with actual responses. I asked if he would watch, I would try again. John watched, then said, "Wait here! I'm going to get the doctor!"
Within 8 hours, David was on a life-flight to Fairview Hospital in Minneapolis, MN.
Surreal…